Jun 22, 2022 06:08 PM Central
Laura Brianne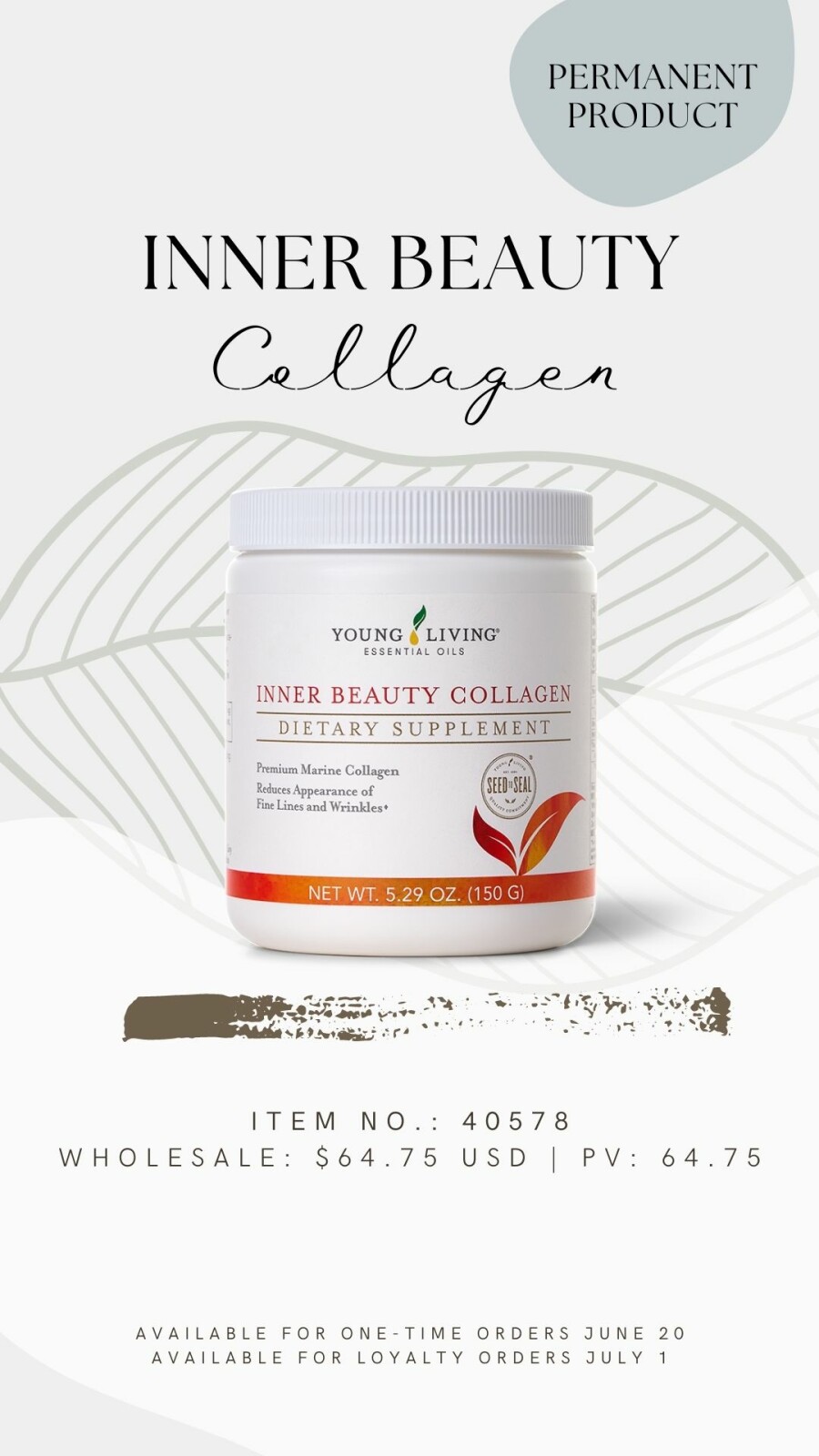 Meet
Inner Beauty™Collagen
—a clean, sustainably sourced collagen supplement. Made with a highly soluble form of bioavailable type I marine collagen, peach ceramide, hyaluronic acid, prebiotic fiber, and no added sugars, our filler-free formula supports healthy skin, hair, and nails from the inside out.
Q. How often should Inner Beauty Collagen be consumed?
A. Inner Beauty Collagen can be used once daily.
Q. What is the shelf life of Inner Beauty Collagen?
A. Inner Beauty Collagen has a two-year shelf life.
Q. From what is the collagen derived and what is its function?
A. Unlike most collagens on the market that use bovine collagen, Young Living's Inner Beauty Collagen uses type I marine collagen derived from fish scale and skin. This type of collagen is better absorbed in the body, giving you better results. Its function is to improve smoothness and elasticity for youthful-looking skin and to support hair and nail health.
Q. Why did you choose fish collagen peptides over other collagen options?
A. Fish collagen peptides, a type I collagen, are unique bioactive peptides and are best known for providing the basis for beautiful skin and strong connective tissues. Science has identified 28 different types of collagen. Type I collagen comprises about 75 percent of the body's collagen glycoproteins and is the principal type found throughout the body. Our type I marine collagen contains a unique combination of amino acids, including hydroxyproline, glycine, and proline—distinctive peptides that stimulate cells in the skin, leading to collagen synthesis.
Q. What are the primary benefits associated with this product?
A. Inner Beauty Collagen improves smoothness and elasticity for youthful-looking skin, supports hair and nail health, supports the dermal layer after UV-induced skin damage, helps maintain optimal hydration levels in the cells to reduce the appearance of fine lines and deep wrinkles, and helps provide hydration to the skin, decreasing skin dryness.
Q. What is the difference between powdered and liquid collagen?
A. Some will tell you that powdered collagen is not as bioavailable as liquid collagen. Marine collagen bioavailability is NOT affected or changed if it is in powder form or liquid form before consuming it. When you add Inner Beauty Collagen to a liquid, it dissolves almost instantly. That's partially due to the purity of the collagen and the process that undergoes to break down the collagen protein into peptides. The improved bioavailability also comes from the amino acid profile in marine collagen, and the type of amino acids in this matrix are absorbed more efficiently compared with other sources. When liquid shots are manufactured, the collagen in these products begins as a powder anyway. One of the main benefits of this powdered formula is that it's flavorless, so you can enjoy Inner Beauty Collagen with virtually any beverage.
Q. Is Inner Beauty Collagen more bioavailable than other brands?
A. Type I collagen is more easily absorbed by the body and contains an amino acid profile that is specifically good for skin. Marine collagen is absorbed up to 1.5 times more efficiently in the body, and the bioavailability is superior to collagen of both bovine or porcine. This is due to its smaller particle size compared to other types of collagen. The smaller particle size allows an easier and faster uptake and transportation of the collagen peptides to the skin, bones, and joints for the synthesis of new collagen.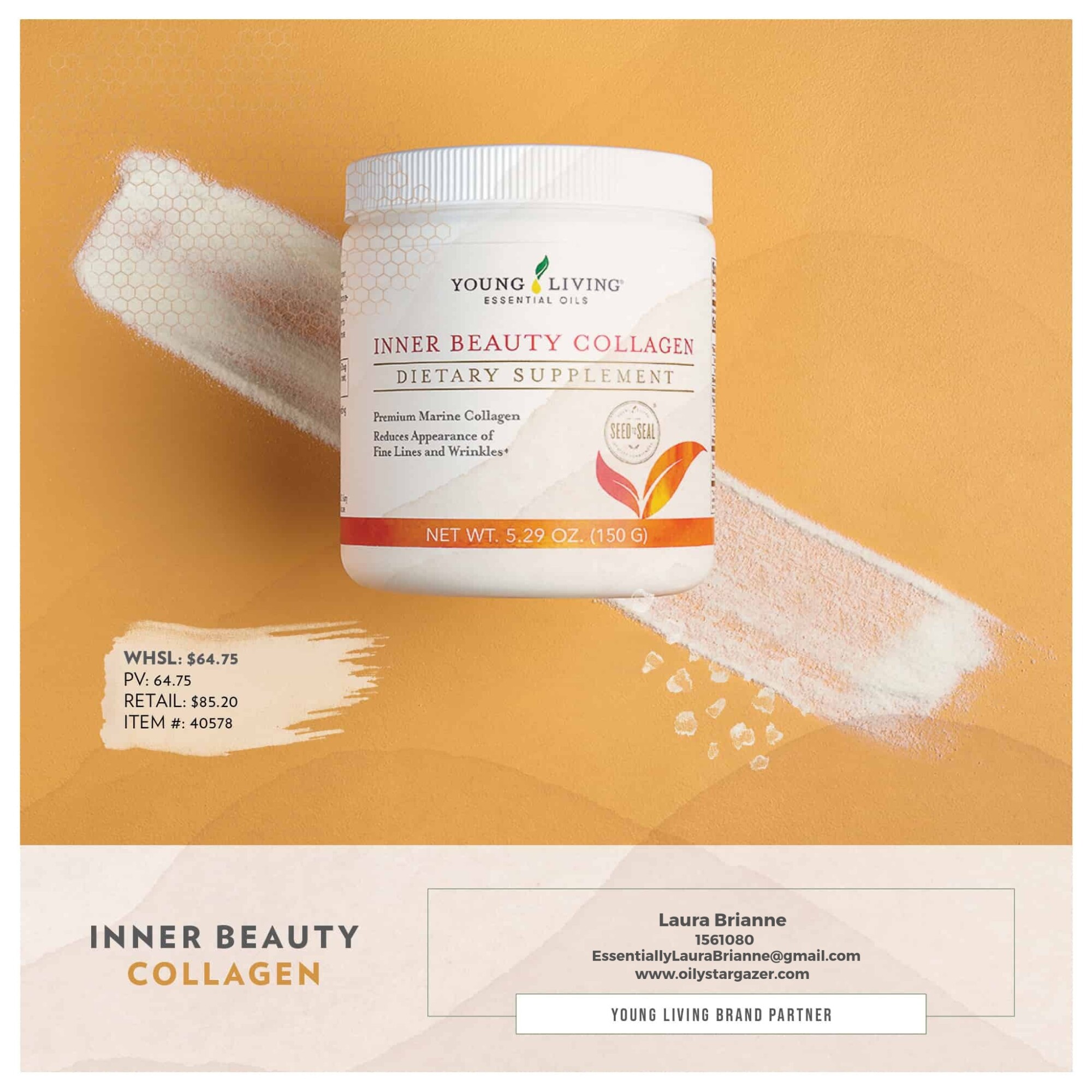 ABOUT
Inner Beauty Collagen™ offers 5 grams of collagen, antioxidants, and other skin-supporting ingredients with every scoop. Even better, it's formulated with naturally derived, sustainably sourced ingredients, so you can feel good about your skin and your purchase.
Unlike other collagen powder supplements derived from bovine sources, ours features bioavailable type I marine collagen sourced exclusively from sustainable marine sources. Other key ingredients include skin-hydrating ceramides extracted from Japanese peaches, tapioca fiber from plants harvested sustainably in Thailand, and our exclusive Vanilla oleoresin that's blended with fractionated coconut oil instead of alcohol.
Taken daily, Inner Beauty Collagen supports vibrant, lit-from-within skin and healthy-looking hair and nails. Enjoy it as a tasteless addition to your morning smoothie, post-workout protein shake, NingXia Red® mocktail, Golden Turmeric™ drink, or ice-cold water. You can even mix it up in baked goods or broth and still scoop up all the benefits.*
DIRECTIONS
Mix 1 scoop of Inner Beauty Collagen with 4–8 ounces of water or your favorite hot or cold beverage daily.
FEATURES AND BENEFITS
Contains 5 grams of type I marine collagen per serving.

Reduces the appearance of fine lines and wrinkles in as few as three weeks

Supports the dermal layer after UV-induced skin damage

Contains prebiotic fiber, which supports healthy skin by balancing the gut microbiome

Provides multilayer, synergistic skin support

Strengthens and supports healthy hair and nails

Promotes skin elasticity and hydration with type I marine collagen and peach ceramides
SUGGESTED USES
Combine with ½ teaspoon of Golden Turmeric™ and 1 cup of water or juice in a shaker bottle for a synergistic effect.

Stir 1 scoop into a cup of your favorite hot tea such as Spiced Turmeric Herbal Tea.

Mix with 2 ounces of NingXia Red® and ½ cup of juice or sparkling water for a tasty, collagen-boosting elixir.

Add 1 scoop to a can of NingXia Zyng® poured in a glass for a sparkling drink that supports skin health.

Blend 2–4 scoops into the batter of baked goods.*
Order yours
HERE
Apr 7, 2022 02:24 PM Central
Laura Brianne
Have you tried one of the newest flavors of
Vitality drops - Jade Berry Lemon?! It's fantastic! This one even contains Guarana Vida, a naturally sourced caffeine. You read that right - it's a delicious burst of energy!
Add it to your water (or other favorite beverage) for an easy and refreshing way to keep your hydration goals on track. With a blend of Brazilian guarana seed extract, green tea, and Jade Lemon Vitality premium essential oil, Vitality Drops + Energy is formulated with optimal levels of natural caffeine so you can enjoy it multiple times per day. It contains natural sweetener and is free of artificial colors or flavors. Try this slushie recipe and tell me what you think…