Jun 18, 2020 11:37 PM Central
Laura Brianne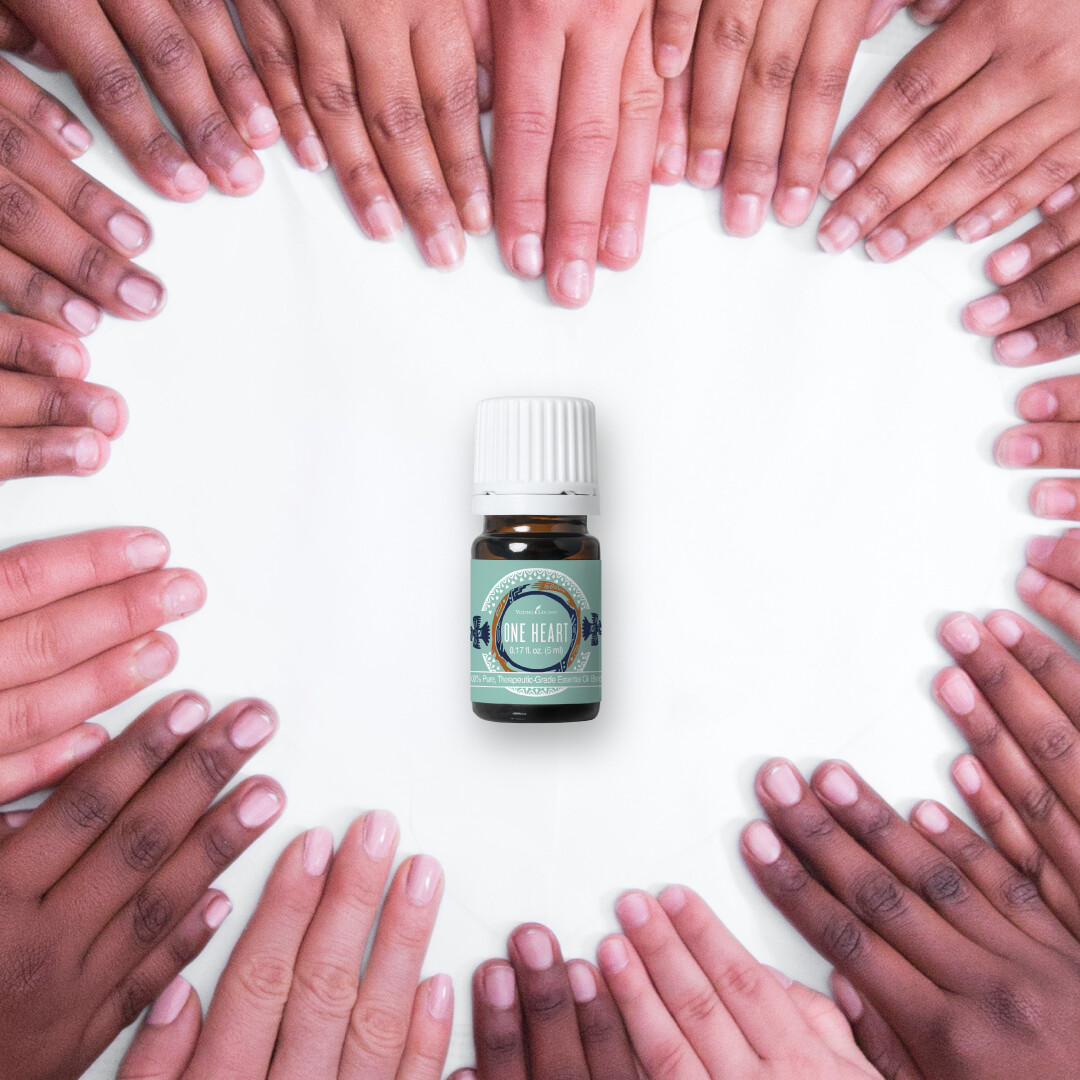 One Heart Essential Oil Blend | PV 22.5 | $45 | No Limit
We created One Heart essential oil blend to celebrate the joy of creating unity and connection in our communities by opening our hearts to love and service for others. Specifically blended to bring people together and help create awareness of The D. Gary Young, Young Living Foundation, the refreshing aroma of this balancing blend can encourage a bright outlook on life and the awareness that we are all in this together. This proprietary blend can also help you find your center and connect to your inner spirituality. Try using it during prayer or meditation for connection with your inner self. The beautiful One Heart label was designed by Anita Perlaza, a graduate of the Young Living Academy in rural Ecuador who is now studying graphic design. Anita's mom works at Young Living's Finca Botanica Farm and Distillery in Ecuador, and her father works at the Academy. Anita said she was inspired to create the design because "I think that if all people can join and collaborate, we can do great things together." One Heart's proprietary blend includes 100% pure essential oils from around the globe, produced by our Seed to Seal quality commitment, including Ylang Ylang and Valor essential oil blend to invoke confidence, as well as Ocotea from Ecuador and Lemon and Lime to uplift. Northern Lights Black Spruce and Spearmint help invigorate the senses. In the spirit of this uplifting, connecting blend, 35% of each wholesale purchase goes to the Foundation to empower, improve, inspire, and change the lives of those in need.
Encourages a bright outlook on life

Opens your heart to love and service for others

Encourages unity and connection with community

Helps you find your center and connect to your inner spirituality

Creates a calming, energizing environment when diffused

Helps you find your center and connect to your inner-spirituality during prayer or meditation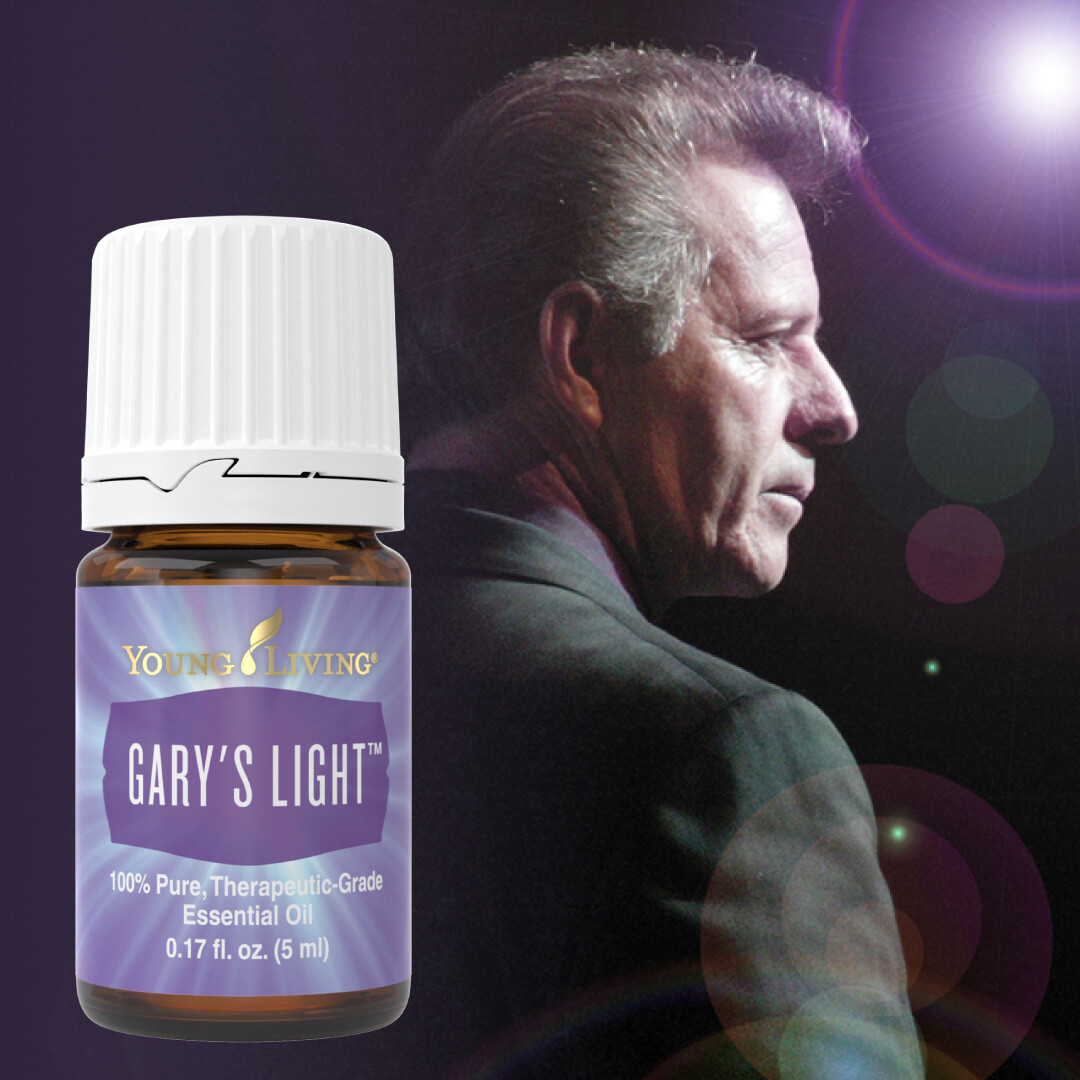 Gary's Light Essential Oil Blend | PV 39.75 | $39.75 | No Limit
Gary's Light was formulated to enlighten our minds to a greater awareness of truth and discernment—certainly at a time when the world could use a ray of inspiring light. Mary explained that she often thought about new blends based on formulas Gary had made at home; and because of their close relationship, she often brought new things to light through her understanding of Gary and impressions she had. Some of the oils have a rich history of ancient usage, and others are relatively new in their discovery, but the combination of oils has a fascinating array of different constituents that support various physical and emotional needs. The warm scents of Cinnamon and Cistus, the richness of Myrrh and Lemongrass, and the awakening notes of Frankincense, Dorado Azul, Eucalyptus Radiata, and Hyssop promote a healthy lifestyle and well-being.The aroma is so smooth, elegant, and perfectly balanced that it gives you a calming sense of strength that makes you feel grounded and protected and at the same time fills your heart with joy and peace.
Has a warm, spicy, sweet scent

Cleanses and purifies odors in the air

Freshens your personal environment with a rich, cleansing aroma

Inspires a healthy lifestyle and well-being

Contains key constituents cinnamaldehyde, alpha-pinene, eucalyptol, and geranial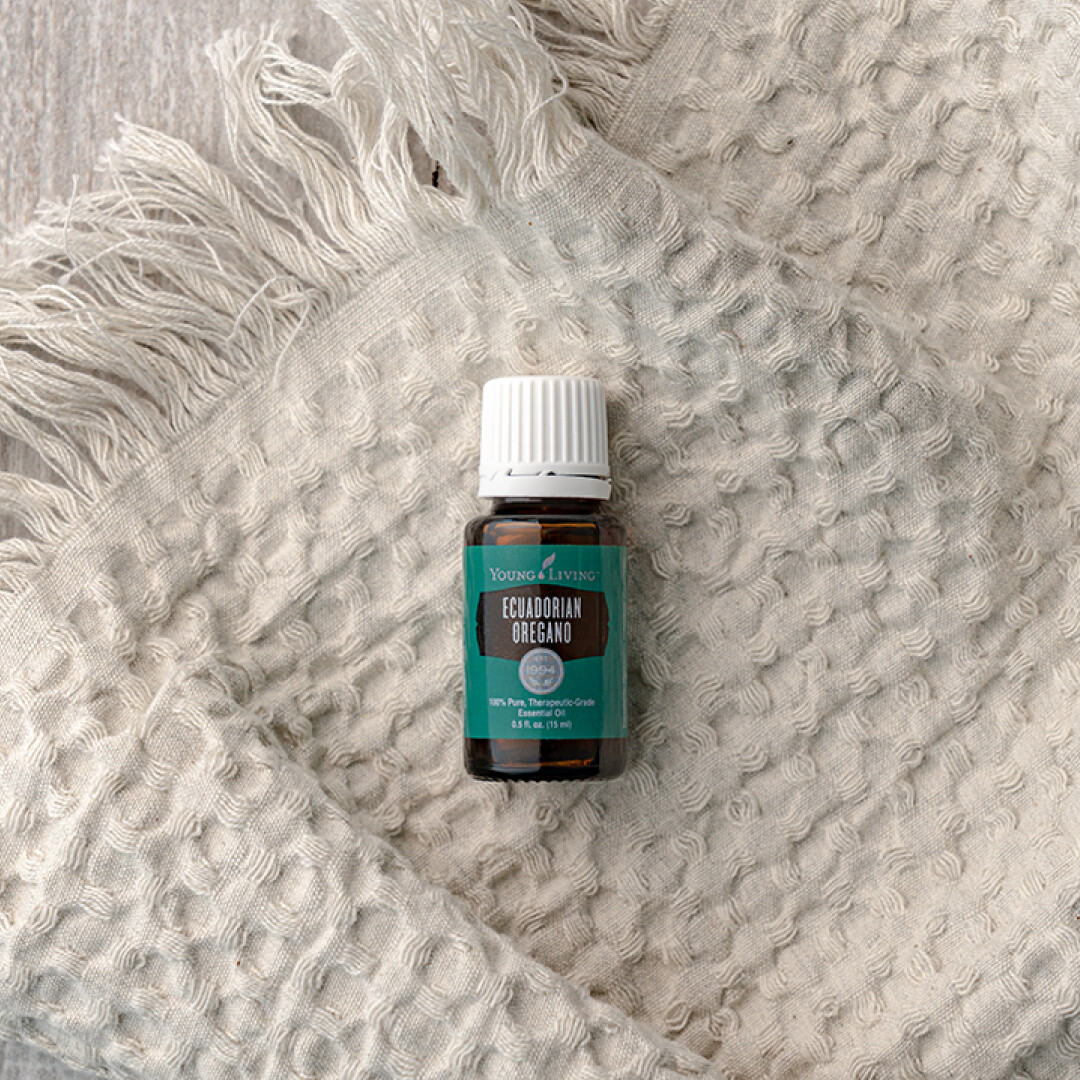 Ecuadorian Oregano Essential Oil | PV 29.5 | $29.50 | No Limit | LIMITED TIME OFFER
Immerse yourself in the traditions of the lush South American tropics with Ecuadorian Oregano essential oil. This pure essential oil is cultivated and distilled in the rich soil of Young Living's Finca Botanica Farm and Distillery in Chongon, Ecuador. Ecuadorian Oregano is a powerful herb, found in villages and houses throughout South America, where grandmothers and herbalists alike have used it for generations. Ecuadorian Oregano is not technically oregano, but is named such because of its softly herbaceous, oregano-like scent. This naturally pure essential oil offers a cleansing, invigorating aroma, and pairs perfectly with a relaxing massage for overworked muscles. If you love the soft, herbaceous scent of Oregano but need similar properties to Peppermint, R.C., or Cool Azul, Ecuadorian Oregano is just for you!
Cleanses and purifies the air of strong odors when diffused

Creates a cleansing, invigorating experience when inhaled or diffused with R.C. or Eucalyptus oils

Pairs well with Thieves essential oil blend and Thieves cleaning products

Soft, herbaceous, oregano-like aroma

Great substitute for Oregano essential oil in blends or the Raindrop Technique for a milder, softer oregano aroma

Key component in Cool Azul Pain Relief Cream and includes the natural constituents of carvacrol, gamma terpinene, and para-cymene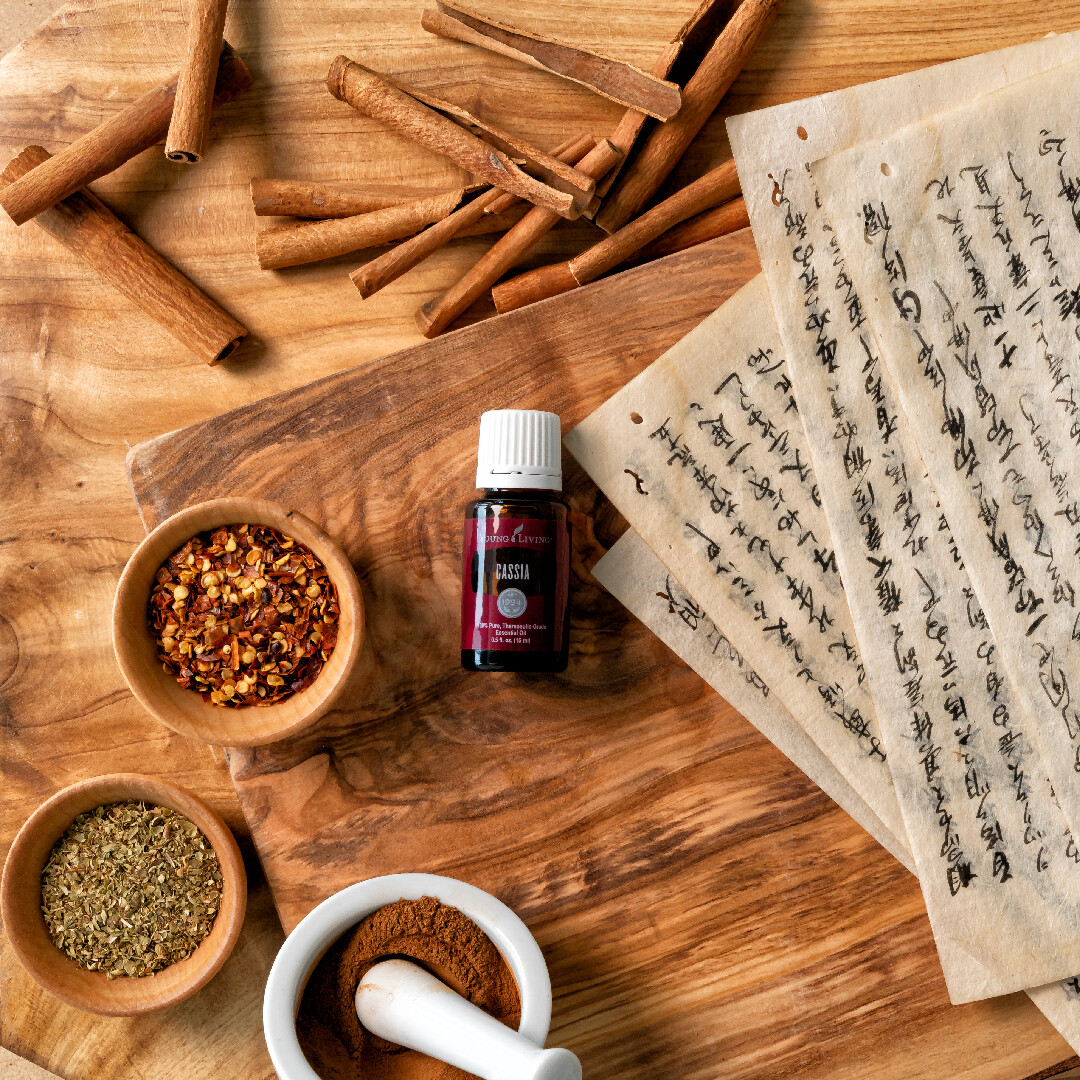 Cassia Essential Oil | PV 22.75 | $22.75 | No Limit | LIMITED TIME OFFER
Breathe in the sweet, light, cinnamon-like aroma of Cassia essential oil and let its comforting and cozy characteristics cast away your worries and create a sense of peace and serenity. Its grounding and balancing aroma inspires emotional release. Uplift, calm, and refresh your most important environment—your home—with Cassia's warm aroma. Use during times of doubt, to center yourself, to encourage inner connection, and to develop positive self-awareness. Take your meditation or spiritual practices to the next level with this bottle of comfort. Cassia can make your home a haven on its own or diffused with citrus and conifer oils, creating delicate layers of blissful aroma.
Refreshes and purifies the air of odors when diffused.

Cleans odors from air and dirt and grime from surfaces; adds an extra cleansing boost to Thieves Household Cleaner.

Creates a sense of peace and serenity.

Encourages inner connection and positive self-awareness when used during meditation or spiritual practice.

Provides a grounding and balancing aroma that inspires emotional release.

Includes the constituents trans-cinna-maldehyde, trans-o-metho-xycinnamaldehyde, and coumarine.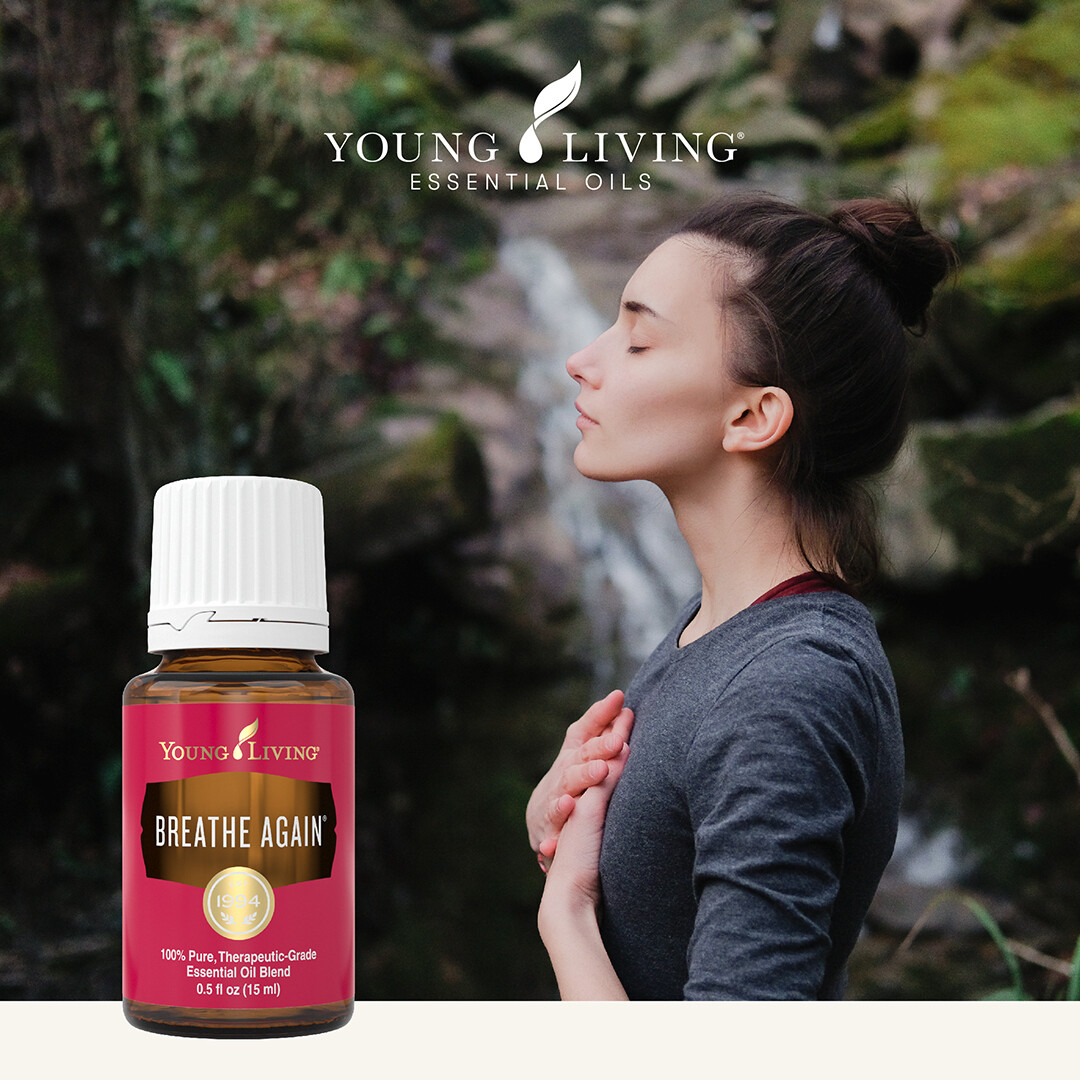 Breathe Again Essential Oil Blend | PV 32 | $32 | No Limit | LIMITED TIME OFFER
Breathe Again's rejuvenating aroma now comes in a larger, 15 ml bottle! Carry the crisp scent of Breathe Again whenever you need to catch a breath from your busy day, whether you're working up a sweat in the gym and want an invigorating boost, find yourself lagging at work and need a stimulating punch, or just need a break from stuffy odors anywhere life may take you. Breathe Again is just as easy to diffuse as it is to mix and blend with other Young Living essential oils to create custom concoctions. Breathe Again combines some of our favorite essential oils, including Peppermint, Myrtle, and Copaiba, with four different types of Eucalyptus containing the key constituent eucalyptol. This blend includes Eucalyptus Blue from our Finca Botanica Farm to offer you the soothing, refreshing scent that adds something special in any situation. No matter what life throws at you, breathe easy knowing you can Breathe Again.
Supports the feeling of normal, clear breathing when diffused

Aroma soothes and invigorates when applied to the head, neck, chest, or under the nose

Creates a cooling, soothing sensation when applied topically

Contains naturally occurring constituents Eucalyptol, Limonene, Menthol, and Alpha Pinene