Jun 4, 2018 07:36 AM Central
Laura Brianne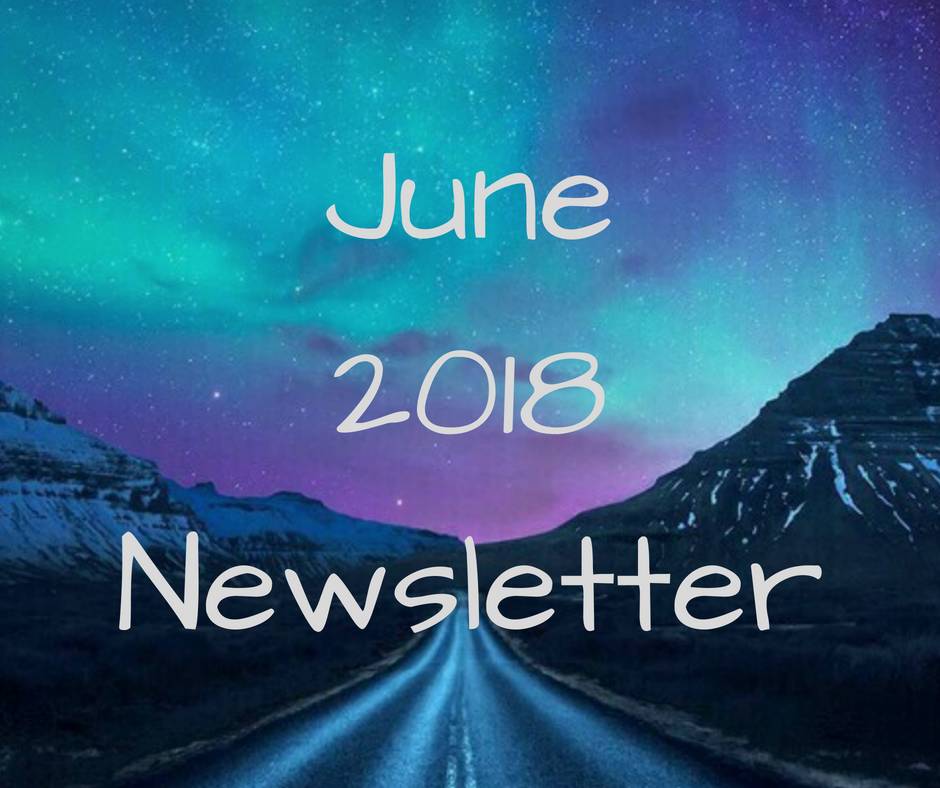 Summer is here! Did it sneak up on you, too?
We are in the midst of planning a camping trip to Colorado.
June is one of the most exciting months of the year for Young Living and all its members. Let's kick off this month with announcements you don't want to miss, upcoming classes, recipes perfect for summer, and FREE promotional items that are going to take your summer from ordinary to EXTRAORDINARY!
---
Announcements:
YL "Freedom" Convention is June 13-16th. It's four days filled with community building, hours of life-changing presentations, special announcements, and the release of new products! What do you think they will release this year? To stay in the loop, make sure you join us on Facebook here ::
https://www.facebook.com/groups/514323052076597/about/
Upcoming classes:
We usually offer a couple of different classes each month in our Facebook group, below I have listed a few that we have done or are about to go through.
Toxin-Free Home Class (EO 101)
Savvy Minerals Makeup
Fun in the Sun class
Summer Social
Are you interested in hosting your own online or in-person get together? Let me know and I can help. They are easy, fun, and of course, a GREAT way for you to pay for your oils.
Speaking of this, I will be hosting an online opportunity event at the end of the month. Thousands upon thousands of people are paying for their oils with money or reward points they receive by creating a network of oilers. If you are loving your oils and want them free, attend this event! I will be sharing more info later!
---
Let's kick off summer with a few awesome recipes!
Lavender Cupcakes with Wild Orange Cream Frosting. Light, different, and oh, so delicious!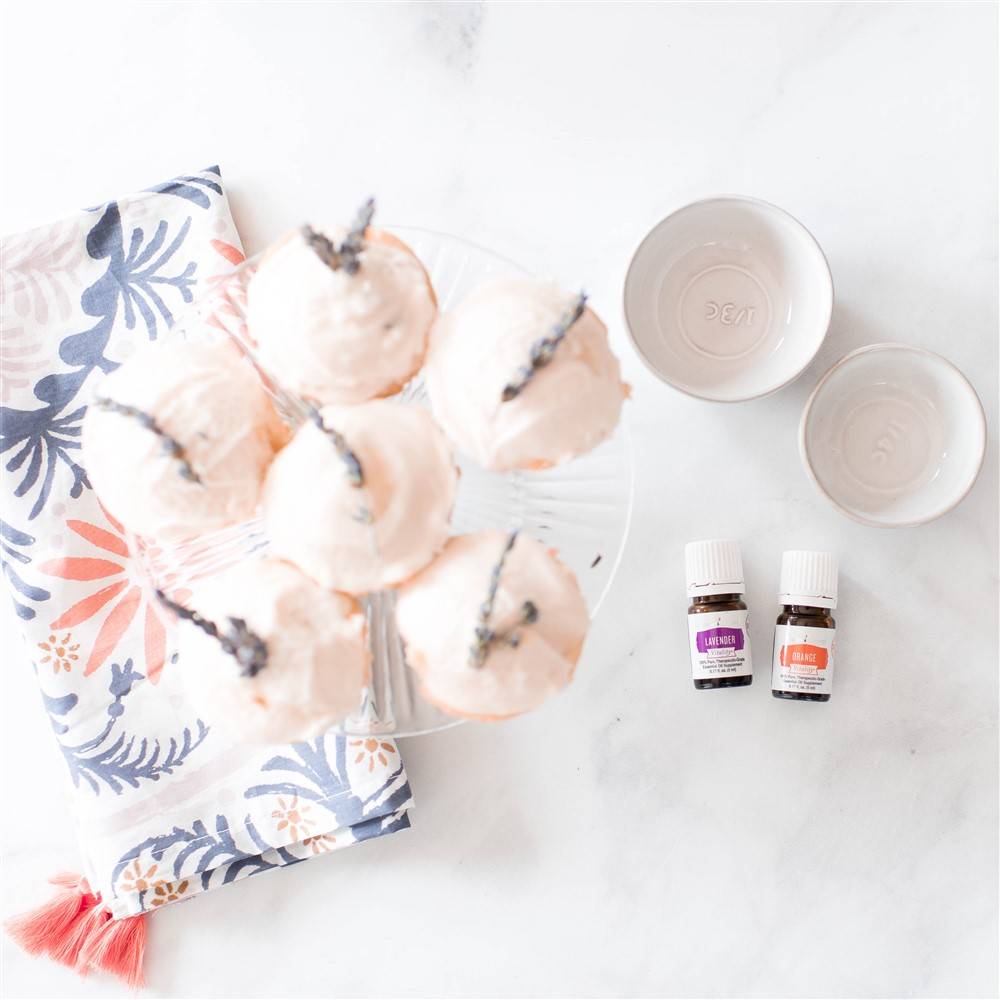 INGREDIENTS:
Cake:
1 1/2 cups cane sugar
1 1/2 vanilla beans, scraped (optional)
2 1/3 cups plus 2 Tablespoons cake flour, not self-rising
2 1/4 teaspoons baking powder
3/4 teaspoon baking soda
3/4 teaspoon salt
3/4 cup extra-virgin olive oil
3 large eggs, room temperature
1/2 cup Greek yogurt
2 Tablespoons pure vanilla extract (use 3 Tablespoons if not using vanilla beans)
2/3 cup whole milk
3 drops Lavender Vitality Essential Oil
Frosting:
4 ounces low-fat Neufchatel cream cheese, softened
2 ounces butter
2 teaspoons pure vanilla extract
4-6 drops Orange Vitality Essential Oil (FREE THIS MONTH with a 100-PV ER order!)
4-5 cups powdered sugar
Orange slices, for garnish
Lavender sprigs, for garnish
DIRECTIONS:
Preheat oven to 350 degrees and line 18 to 25 muffin tins with cupcake liners.
In a small mixing bowl, combine sugar and vanilla bean seeds. Blend using the back of a tablespoon to loosen any clumps of seeds, and set aside.
In a large mixing bowl, sift together cake flour, baking powder, baking soda, and salt. Set aside.
In a mixing bowl, add olive oil, eggs, yogurt, vanilla, milk, and Lavender Vitality Essential Oil. Mix for 1 minute. Add vanilla bean and sugar mixture and blend until completely combined.
Fill cupcake liners 2/3 full, and bake for 12 to 15 minutes or until a toothpick inserted into the center comes out clean. Remove from oven and cool completely before frosting.
To make the frosting, beat cream cheese, butter, vanilla, and Orange Vitality Essential Oil together in a large mixing bowl until smooth and creamy. Add sugar 1 cup at a time on low speed until completely combined.
Increase the speed to high and mix until very fluffy and smooth. Frost cooled cupcakes.
------
Lavender Vitality supports the cardiovascular and nervous system.
Orange Vitality supports your digestive and immune systems and promotes healthy skin.
---
Feeling a little heated after a full day in the sun? Cool down with this DIY After-Sun Spray.

Ingredients:
3 oz distilled water
10 drops Lavender Essential Oil (FREE THIS MONTH WITH 250 PV and above)
10 drops Peppermint Essential Oil (Intensify the cooling sensation with extra drops)
1 Tbsp Witch Hazel
1 Tbsp Aloe Vera
Directions:
Mix together and place in a 4 oz spray bottle. For an extra cooling effect, store in your refrigerator!!
---
Keep your outdoor cookouts annoyance-free with this outdoor spray.

Ingredients:
2 oz Witch Hazel
2 oz distilled water
20 drops Thieves Essential Oil
20 drops Lemon Essential Oil
20 drops Rosemary Essential Oil
20 drops Citronella Essential Oil (FREE THIS MONTH WITH 190-PV orders and above)
Mix together in a 4oz spray bottle. Shake before use.
BONUS: This can be a great diffuser blend for the back patio or camper, too! Use two drops of each oil with water in your diffuser.
---
Business oil of the month:
This month's business oil is Highest Potential. Diffuse this blend EVERY SINGLE DAY this month to achieve your full potential. Five drops in your diffuser will bring out your confidence so you can focus on your higher goals.
This is what Gary Young - Founder of Young Living had to say about Highest Potential.
"There is hardly a day that I do not wear Highest Potential. It has the Australian Blue Cypress, Gathering, Jasmine, and Ylang Ylang..what a combination!
Highest Potential is a blend that if you use it with Envision, with Dream Catcher, and with Awaken, it starts creating that belief inside of you that nothing is limited, that you have ultimate potential.
That was the whole concept in creating this blend, to move you to your highest potential."
Help 5 challenge this month! Earn 5 points and receive this blend FREE. A great way to replace the one you are going to use this month. Earn points three ways.
1 point: New or reactivated member
1point: Personally enrolled joined ER in June with a 50 PV order.
1 point: Reactivating personally enrolled in ER*
*Must have been inactive for 6 months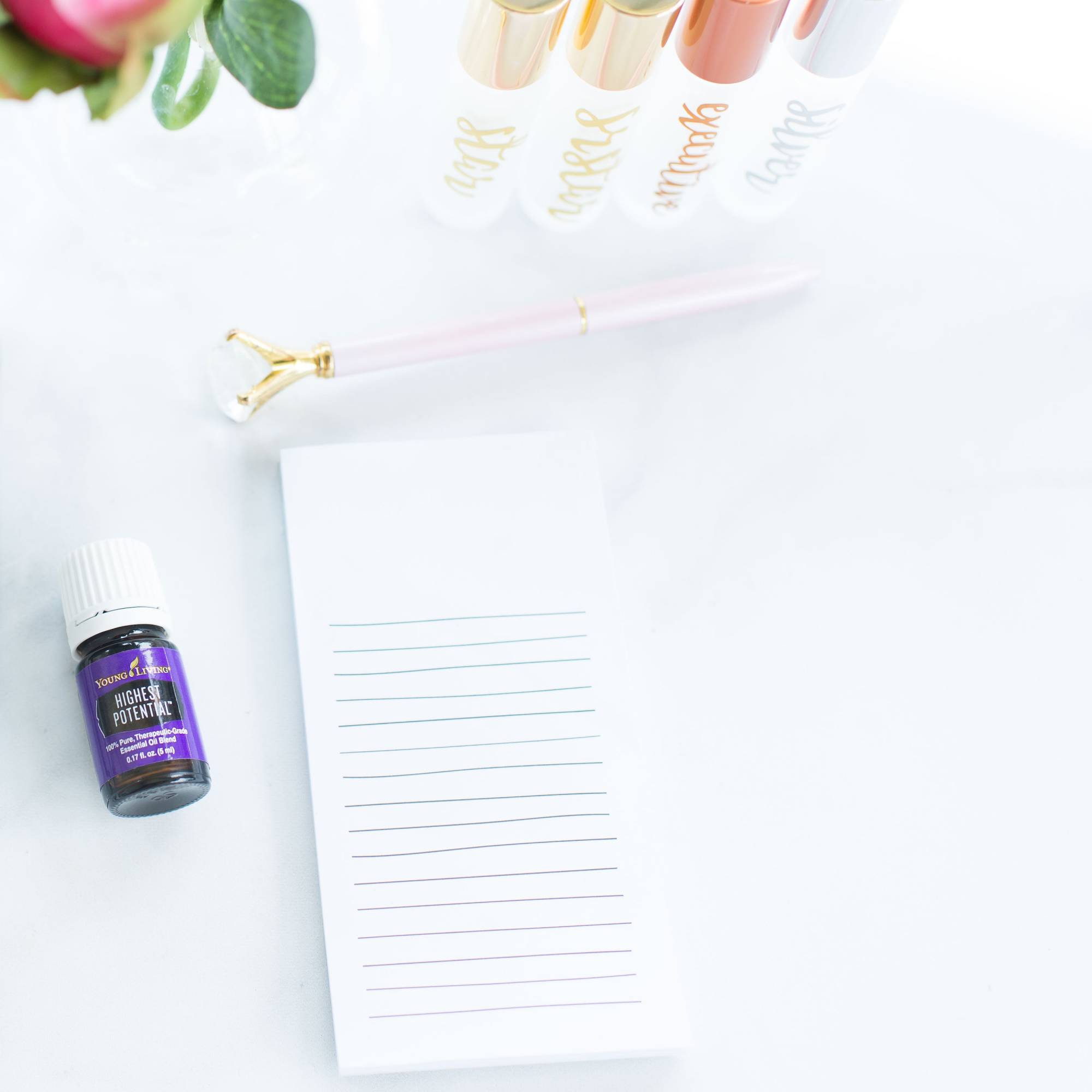 Do you feel like you need a little accountability this month? Write down your goals and email them back to me. I can help hold you accountable! Your goals can be about anything you want: relationships, health, business.
---

WHAT'S FREE THIS MONTH!?
June promotional items for USA. The PV total must be reached in ONE order to qualify for free promotional items.
Order 400 PV in one order and you will receive.... (Retail value $220.43)
5 ml Roman Chamomile: relax and unwind after a long summer day. Currently not available for purchase.
15 ml M-Grain: Massage into your neck and shoulders.
15 ML Lemongrass: Rub into tired muscles.
15 ml Lavender: Literally good for everything. Can you ever have too much Lavender? I think not.
15 ml Citronella: Apply topically before spending time outside.
Bonus ER exclusive: 15 ml Cypress: Creates feelings of security and grounding.
Bonus ER exclusive: 5 ml Orange Vitality supports your digestive and immune systems and promotes healthy skin.
FREE at 300 PV (Retail Value $166.48)
15 ml M-Grain
15 ML Lemongrass
15 ml Lavender
15 ml Citronella
Bonus ER exclusive: 15 ml Cypress
Bonus ER exclusive: 5 ml Orange vitality
FREE at 250 PV (Retail Value $107.24)
15 mL Lemongrass
15 ml Lavender
15 ml Citronella
Bonus ER exclusive: 15 ml Cypress
Bonus ER exclusive: 5 ml Orange Vitality
FREE at 190 PV (Retail value $60.20)
15 ml Citronella
Bonus ER exclusive: 15 ml Cypress
Bonus ER exclusive: 5 ml Orange Vitality
FREE at 100 PV (Retail value $ 7.89)
Bonus ER exclusive: 5 ml Orange Vitality