Oct 15, 2019 09:32 PM Central
Laura Brianne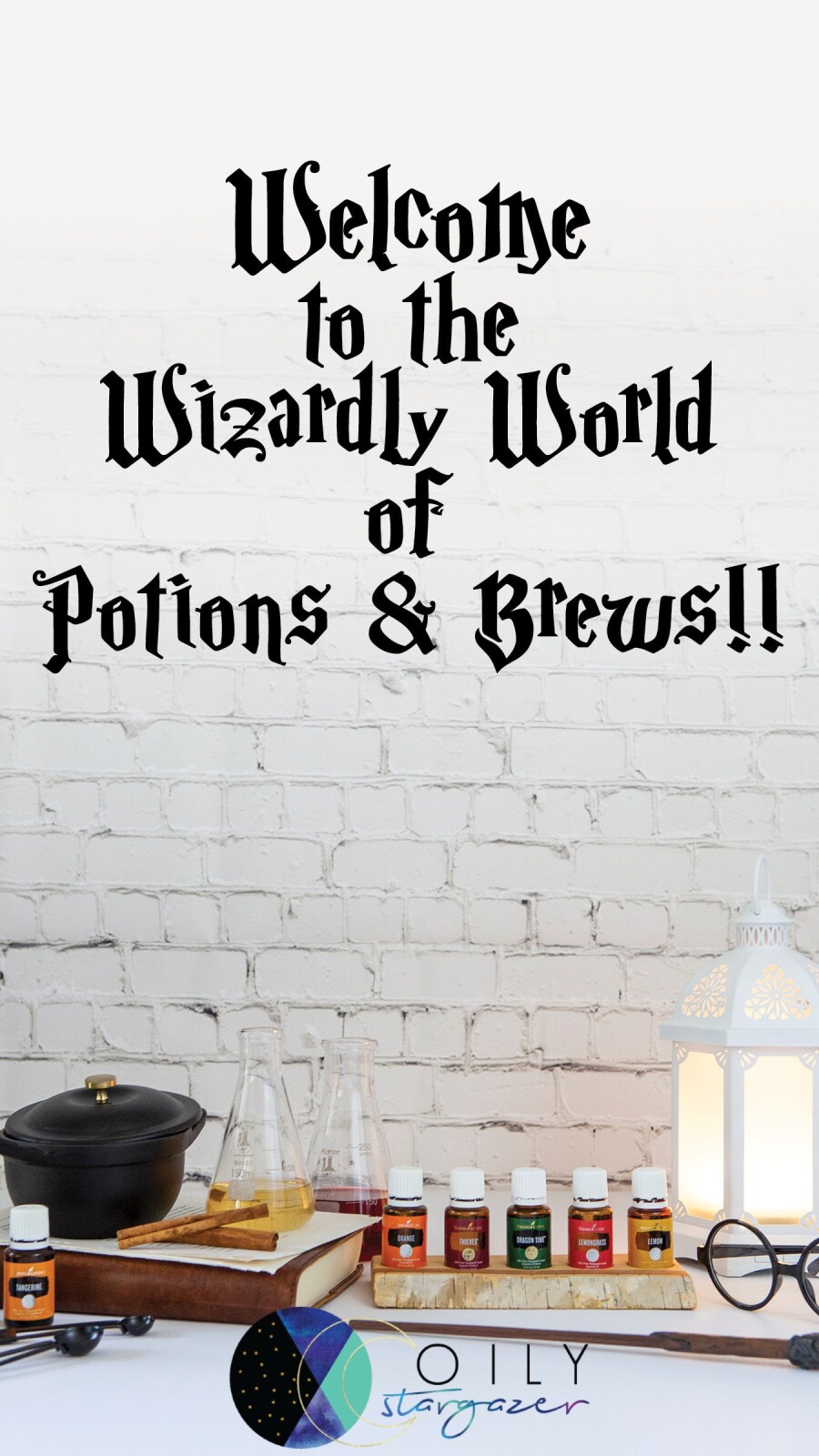 Welcome muggles! Snuggle up with your favorite magical creature and a goblet of butterbeer (or wine will do just fine!)

;)
I am so excited you're here to learn a few easy ways to 'brew up' some recipes with essential oils!
Ready to start? Let's have some fun!
Every wizard knows that quality ingredients matter when it comes to potions and brews. There are many essential oil companies out there and what sets Young Living apart from all of them is their 'Seed to Seal' promise. It's the reason I chose them and trust them with my family.
YL owns its own farms, which no other major company does. It has partner farms all over the world that have to abide by the same standards.

YL won't plant on soil that has been in contact with ANY chemicals within 50 years. (Organic standards are only three years!)

YL picks the absolute best seeds from strong, thriving plants.

YL hand weeds and uses its own oils on plants for weed and pest control to avoid harmful chemicals.

YL harvests at peak times to ensure you get the highest quality oil.

YL distills on site at the proper temperature, which allows the oils to maintain the highest amount of their naturally occurring constituents as possible, without the use of harsh chemicals.

YL tests every batch multiple times, and in multiple ways, throughout the process with state-of-the-art equipment and on-staff scientists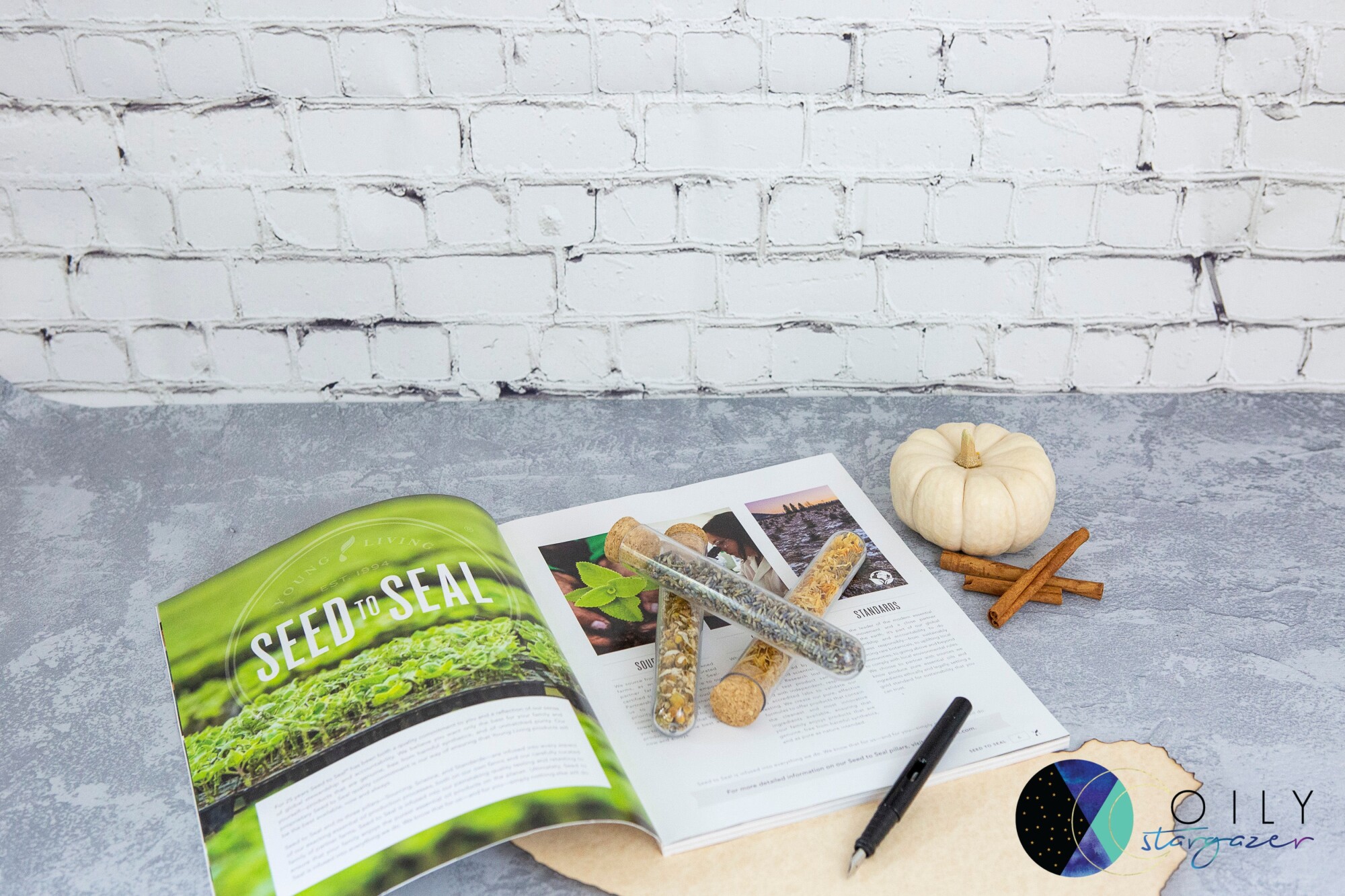 YL Oils are the best of the best. Here are a few tips to help you use them:
Some oils are hot, so dilute with a carrier such as coconut oil or YL's V-6 complex when using on children, sensitive skin, or anytime you experience discomfort.

Do not drip essential oils into your ear canal or directly into your eyes. If you do get oils in your eye, stay calm and apply a carrier oil, not water.

When in doubt, dilute and apply to the bottoms of your feet!

Citrus oils can cause your skin to be more sensitive to UV rays. So apply citrus oils where the sun won't be shining (or a tanning bed)!

Use glass or stainless steel when adding citrus oils to your water. Citrus oils can break down plastic and nobody wants to drink plastic!
So how can you use them?
Topically

: Put a couple of drops right on your skin and rub it in. No need to be precise. Just get those oils on! Worried about sensitive skin or a hot oil? Dilute it with a carrier oil (grapeseed oil, coconut oil, Young Living's V-6 oil, etc.) and apply to the bottoms of the feet.

Aromatically

: Use them in the diffuser OR inhale them from diffuser jewelry, your hands, or directly from the bottle! It's that simple!

Internally

: Young Living has a special line of oils that are safe to ingest called Vitality oils. Put a few drops into an empty vegetable capsule, a cup of tea, or a glass of water. You can even cook & bake with them! Try some Lemon Vitality in your yogurt or a drop of Nutmeg & Cinnamon Bark into your coffee grounds before brewing. So yummy!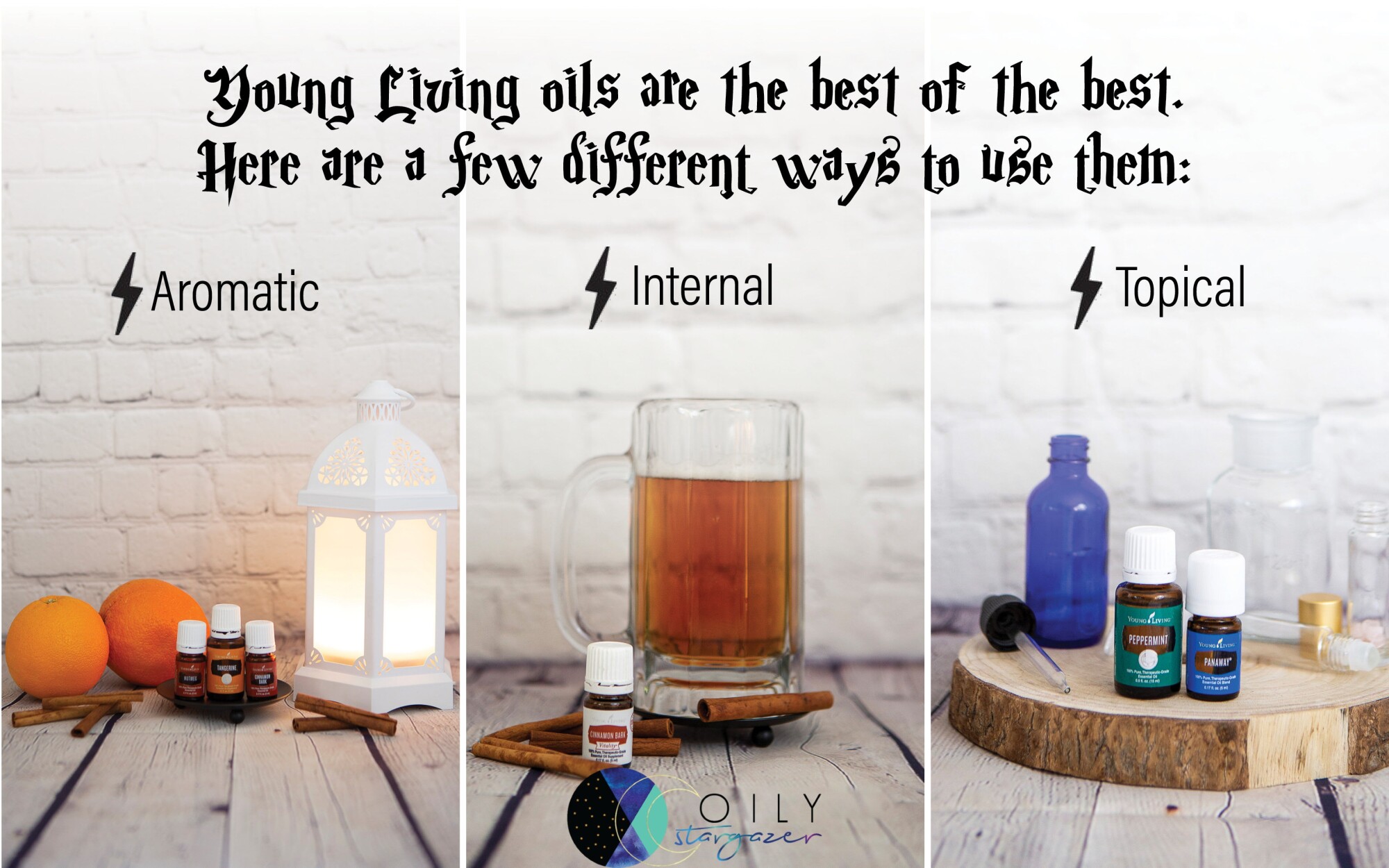 Concocting your own sprays is a great way to eliminate the harmful chemicals found in commercial room and fabric sprays. Some of these chemicals, like BHT, Propylene Glycol, Linalool, and Benzaldehyde(just to name a few) have been found to be neurotoxins, endocrine disruptors, and irritators of the eyes, skin, and lungs. Do a quick Google search on the dangers of these chemicals and commercial room sprays in general. You'll be surprised!
Essential oils are a charming alternative and can be used in any area of your life. But before we jump into the potions and brews recipes, take heed of this wizardly tip! Always keep Copaiba on hand - it has the power to enhance and magnify the effects of another oil.
For each spray you will need:
- 4 oz glass spray bottle
- 2 Tbsp witch hazel
- Distilled water
- 15-30 drops of essential oils
Add witch hazel and essential oils to glass bottle. Top off with distilled water. Shake well before each use.
♥ Obliviate Spray
Dispel odors from your home with this house-elf approved spray! Gather these two oils for your brew:
10-15 drops Purification

5 drops Lemon
Spritz this brew on curtains, carpets, and anything else that could use some freshening up or whenever you need a little magic around!


♥ Accio Fall Spray
Summon this sweet aroma to get in the spirit of the fall season!
6 drops Cinnamon Bark

5 drops Nutmeg

10 drops Tangerine or Orange
Spritz around to attract the season of candy and cauldrons!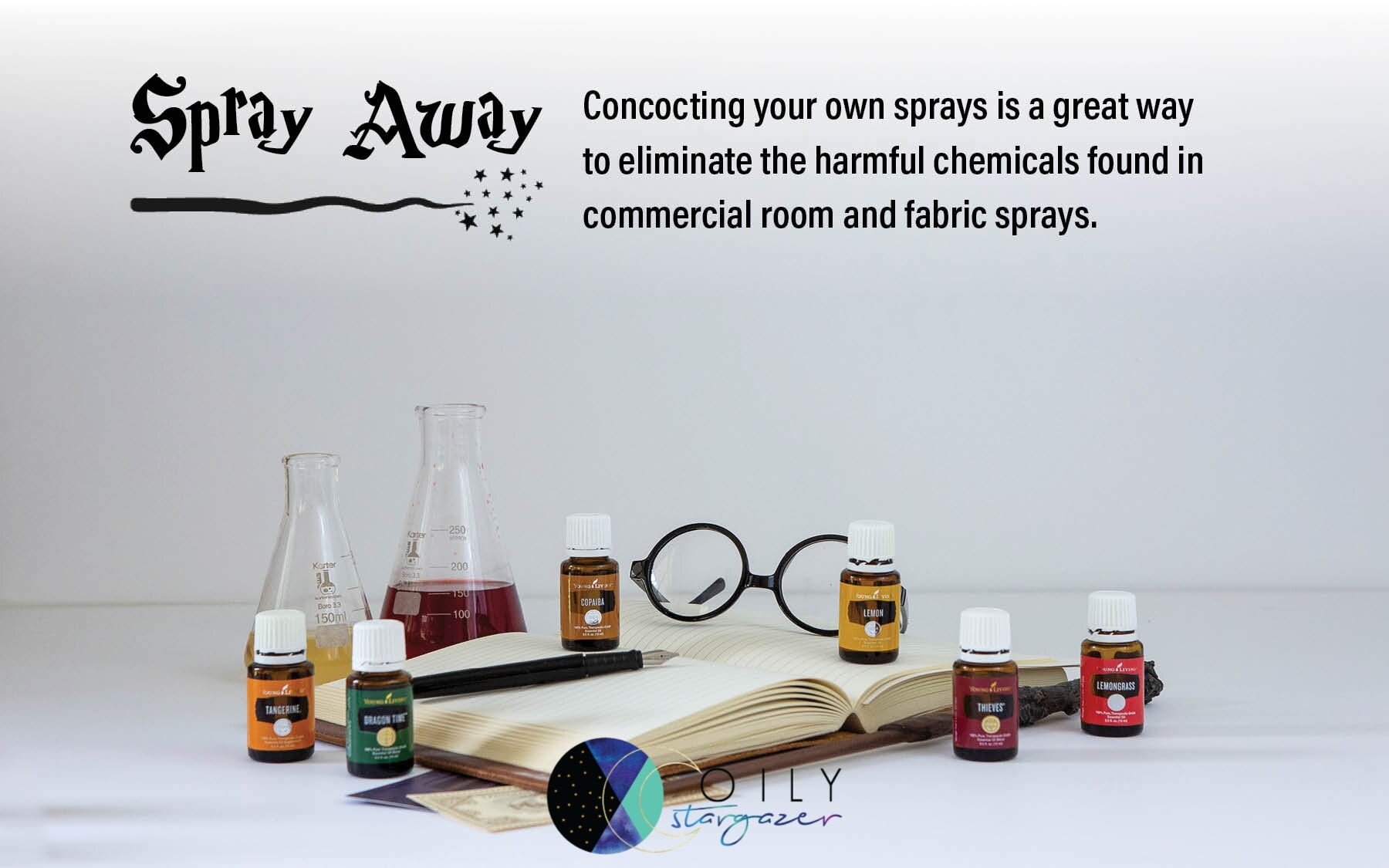 Next, let's make some powerful potion rollers!
Mixing up your own potion rollers is not only fun, but also a great way to stretch your oils (and $$$) to make them last longer. Simply pick out your favorite roller recipe and follow the directions below.
Directions
Combine essential oils with your favorite liquid carrier oil (i.e. V-6 complex, jojoba, fractionated coconut oil, almond, avocado, etc.) in a 10 ml glass roller bottle.

Leave a little space to apply the roller bottle without spillage.

Apply as directed in the recipe.


♥ Reparo Roller
Sour tummy got you staying home from your visit to Hogsmeade? Use this magic roller recipe for quick relief!
10-15 drops Digize

5 drops Peppermint
Rub directly onto your stomach as needed.
♥ "Nearly Headless Nick" Roller
Ever felt like your head was going to explode? Maybe you've wished it was no longer attached? Try this hocus pocus magic combo!
15 drops Panaway

8 drops Peppermint
Apply this blend to your forehead, temples and back of neck and INHALE!
♥ Dragon Tamer Roller
'Monthly Dragon' got a hold of you? It's hard to stay calm, manage the roller coaster of emotions, and keep it together during that time of the month. But not with this blend!
15 drops Dragon Time

5 drops Lavender
Roll onto lower abdomen as needed.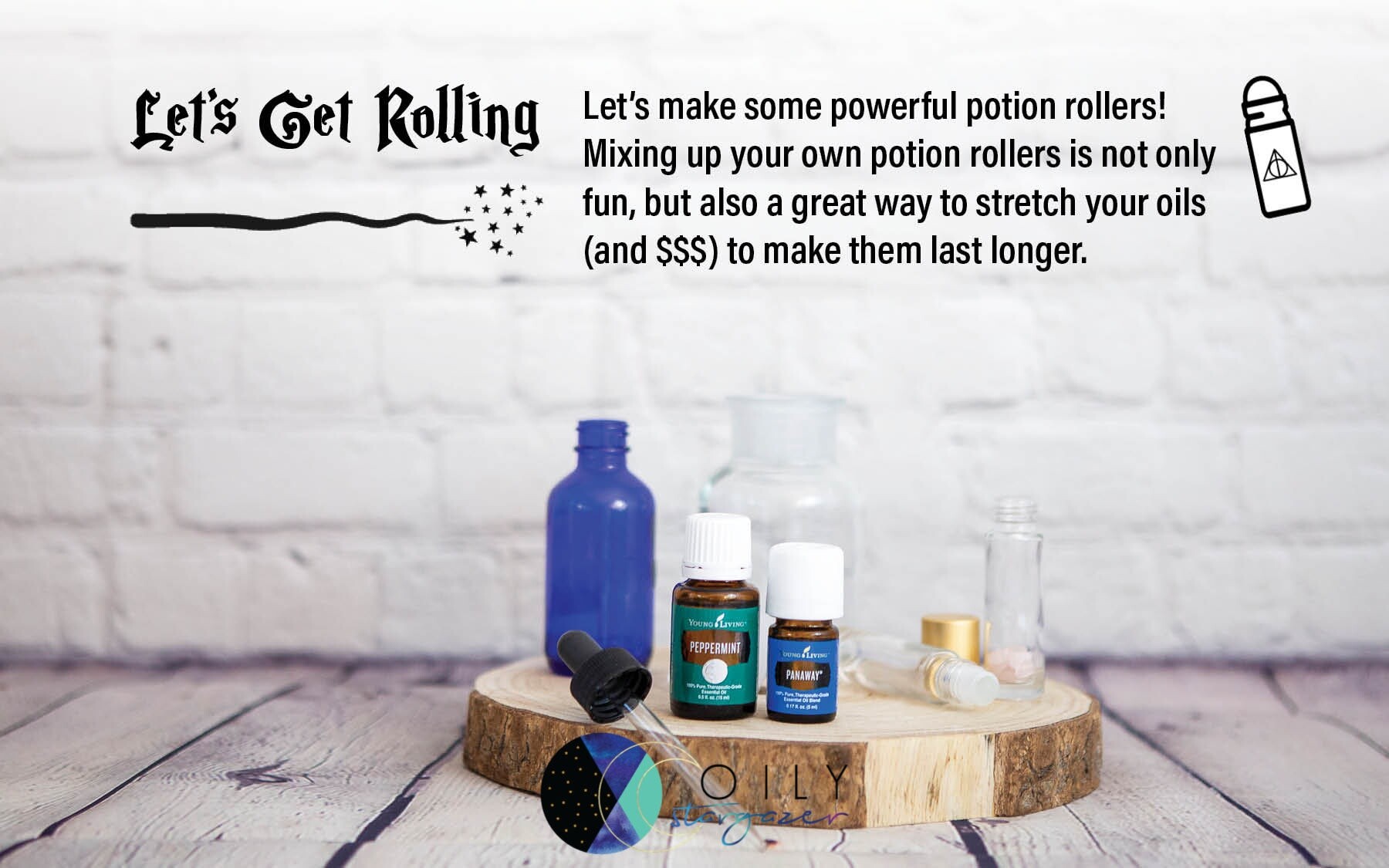 Every wizard and witch needs some aroma power to diffuse the situation… but remember earlier when we talked about the harmful effects of room sprays? Candles rank right up there with sprays! Yuck!
"Most scented candles use synthetic fragrances and dyes that give off dangerous VOCs even at room temperature. Commonly emitted VOCs related to the scent in candles include formaldehyde, petroleum distillates, limonene, alcohol and esters. These harmful chemicals can cause health problems ranging from headaches, dizziness and allergy symptoms to asthma attacks, respiratory tract infections and even cancer."*
Let's skip the candles and plug in that diffuser instead! You are doing your lungs AND your wallet a favor. Try the following diffuser blends to bring peace, knock your enemy out, conjure up beauty sleep, power yourself up with energy, and so much more!

♥ Nox the Nasties
If only there was a spell that could save you from those sniffles during the change of seasons or help you extinguish that nagging tickle in your throat. There might not be an incantation to chant but this diffuser combo is pretty darn close!
4 drops Thieves

2 drops Lemon
This killer combo will have you back to your normal self in no time!
♥ Brave at Heart
Who doesn't need some courage before facing uneasy situations like saving the wizard world… or getting on stage with the sorting hat? This diffuser combo will be your secret weapon.
4 drops Valor

2 drops Copaiba
Set yourself up for a successful day. May bravery be on your side!


♥ Quidditch World Cup
'Tis the season for cheering on your favorite team. Enjoy this sweet and earthy aroma while you relax on the couch with your favorite snacks and sports team. Simply combine the following and diffuse away:
2 drops Lemongrass

2 drops Lavender

2 drops Geranium

2 drops Spearmint

2 drops Tangerine
♥ Pumpkin Pasties
Power on your diffuser with this seasonal blend, blast the fireplace, and invite your friends over for a glass of Pumpkin Cider or some Butterbeer!
2 drops Cinnamon Bark

2 drops Cardamon

1 drop Ginger

3 drops Thieves
*https://www.iqair.com/blog/health-wellness/hidden-dangers-scented-candles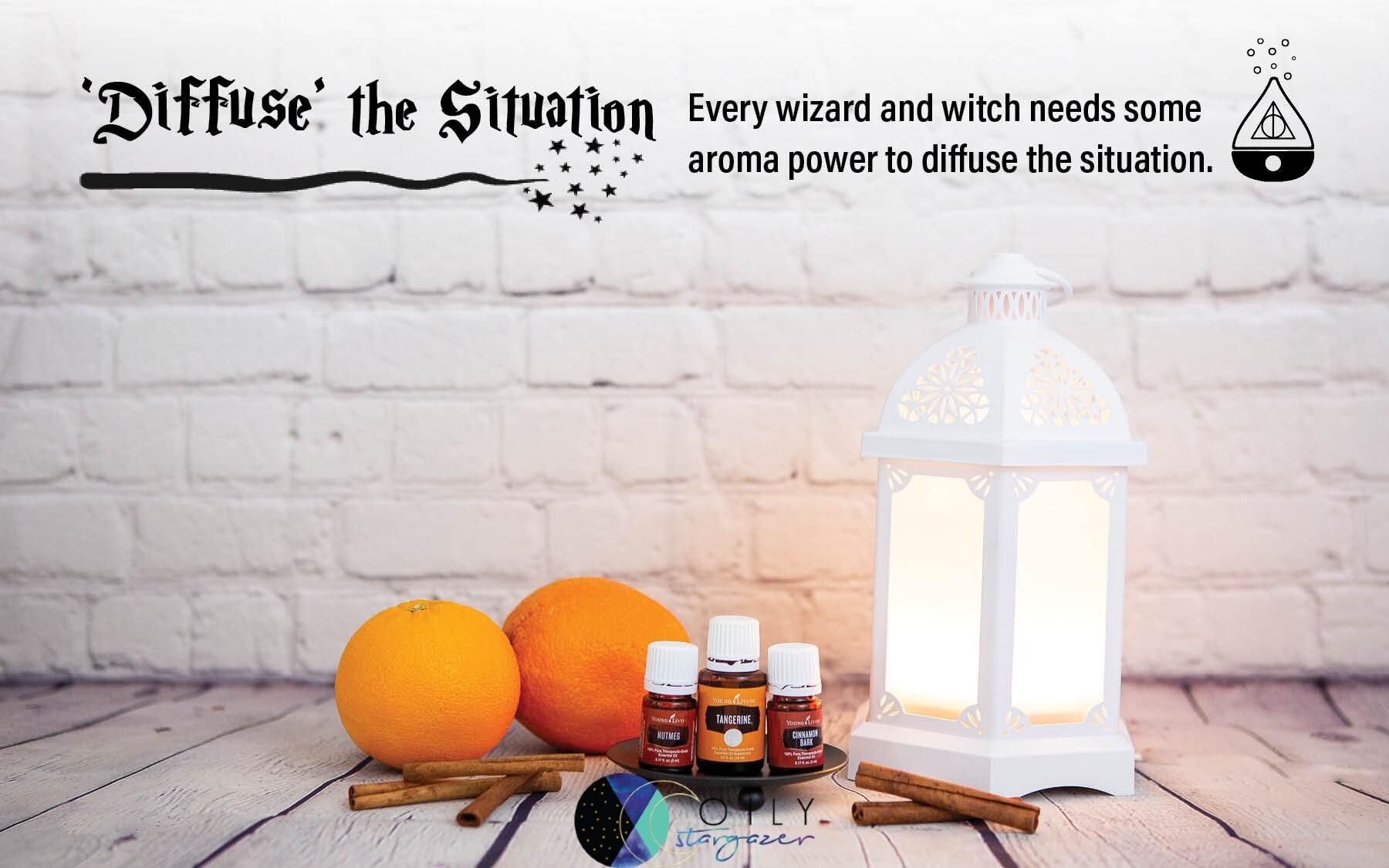 From head to toe, these potions have got you covered! Support your hair, skin, joints, and muscles with these simple recipes!
♥ Episkey Rub

Need a bit of sore muscle support after a long day of fighting evil and waving your wands? Try this!
What You'll Need:
Glass container

1 cup coconut oil

5-10 drops Panaway

2 drops Peppermint

3 drops Frankincense
Directions
Whip the coconut oil with an electric mixer and scoop into the glass container.

Stir in essential oils and rub onto sore muscles as needed.
♥ Furnunculus Potion
Does your skin need extra TLC? Are you cursed with Furnunculus (the Pimple Jinx)? Let's get your skin all mended with the following mixture.
What You'll Need:
Alcohol-free witch hazel

Glass container

5-10 drops Purification

5-10 drops Frankincense

5-10 drops Lavender
Directions
Pour the witch hazel into your glass container and add a total of 15-30 drops (about 5 -10 of each oil).

Shake before each use; then apply to a cotton round or ball to use on your face both morning and night.

Follow up with your favorite moisturizer.
♥ Floo Powder
On days where you may have a little 'wizard cap hair' try this easy DIY dry shampoo to help tame the beast.
What You'll Need:
Small glass container

Old makeup brush

¼ cup arrowroot powder*

⅛ cup cocoa powder (to add a bit of color)*

5 drops Lavender or Rosemary
*use 2 tablespoons of both arrowroot powder and cocoa powder for darker color
Directions
In the glass container add the arrowroot powder and essential oil of choice; mix well.

Add cocoa powder slowly to desired root color.

Using an old makeup brush apply directly to roots at night and rub in.

Brush out any remaining powder the next morning and style as usual.
Perfect for adding flavor to your favorite foods or using as dietary supplements, the Vitality line gives you the freedom to mix and match some of our best-loved essential oils in a variety of nutritious and delicious ways.
Healthy Butterbeer Smoothie Recipe
Make a homemade Butterbeer Smoothie and feel the magic! This easy smoothie recipe tastes like the Butterbeer sold at Hogsmeade but it's sugar-free and vegan!
STEP 1: Vegan Caramel Sauce
Ingredients
1 cup dates

¼ cup cashews (roasted or raw)

1 cup almond milk

1 ½ tsp vanilla extract

¼ tsp sea salt
Directions
Place dates and cashews in a bowl or large Mason jar. Cover with 1 cup of hot (nearly boiling) water and allow to sit for 1 hour or overnight to soften.

Drain dates and cashews well.

Blend together dates, cashews, almond milk, vanilla, and salt until smooth and creamy.

Refrigerate caramel sauce until you are ready to make smoothies.
STEP 2: Butterbeer Smoothie
Ingredients
⅓ cup almond milk

⅓ cup frozen banana (about ½ large banana)

¾ tsp vanilla

1 drop Cinnamon Bark Vitality

1 drop Nutmeg Vitality

2 Tbsp vegan caramel sauce

2 ice cubes (optional: make frozen almond milk cubes and use those)
Directions
Combine all ingredients in a blender and process until smooth.

Pour 2 Tbsp caramel sauce down the sides of a glass and top with smoothie mixture.

Enjoy!
Hocus Pocus Pumpkin Cider
Ingredients
1 ½ cups apple juice or apple cider

3 Tbsp canned pumpkin puree

1 Tbsp maple syrup

½ tsp pumpkin pie spice

1 drop Cinnamon Bark Vitality
Directions
Combine pumpkin puree and pumpkin pie spice in a small saucepan; heat and stir until warm and fragrant.

Slowly stir in apple juice or cider until well combined.

Heat and stir until warm but not boiling. Remove from heat.

Let it cool a bit and add one drop of Cinnamon Bark Vitality.

Pour into mugs and garnish with apple slices.

To serve the pumpkin cider cold: cool to room temperature then chill in the refrigerator until ice-cold. Shake well to combine before serving.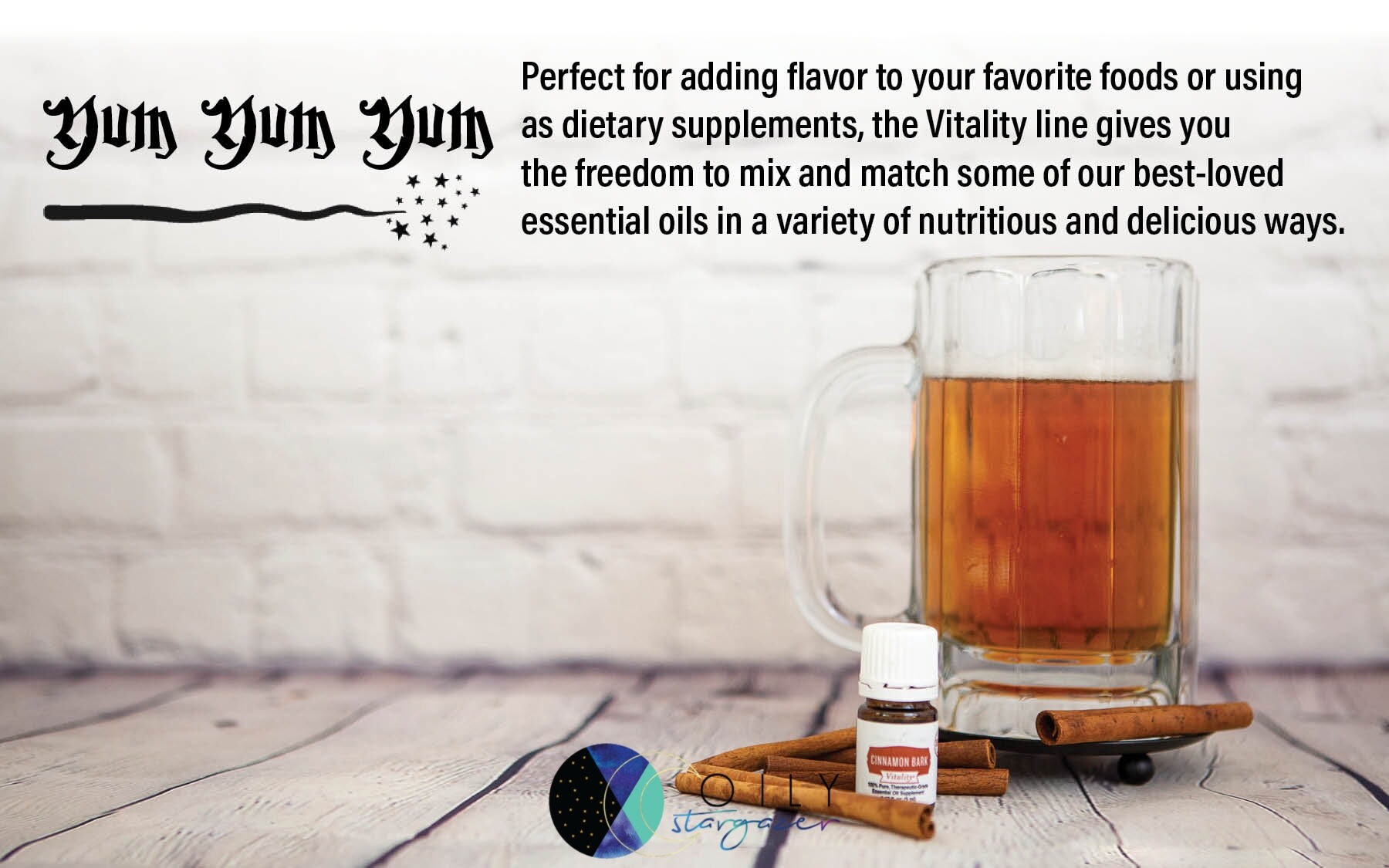 Become a Potion Master!

Ready to mix these potions and brews up at home? Grab your Oils Premium Starter Kit tonight and you can! It contains (almost) all of the oils we spoke about this evening and it's nearly half-off!
The starter kits all come with a FREE lifetime membership (which gets you 24% off all your future purchases) AND access to the BEST monthly subscription box ever - Essential Rewards!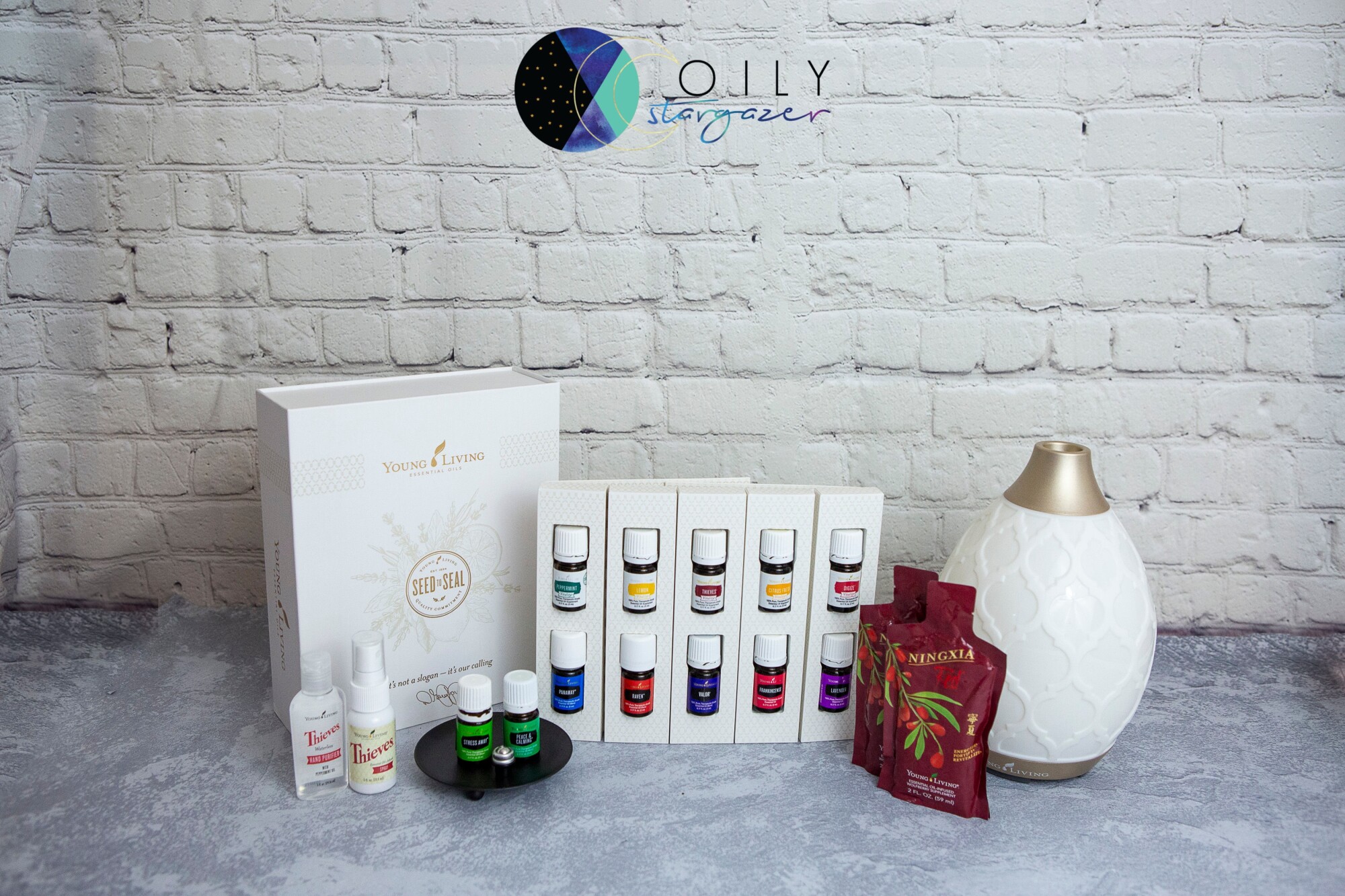 Essential Rewards
Get this set up RIGHT AWAY!! It's the smartest way to order your oils and oil-infused products from Young Living. It's completely customizable and will help save you time, money, and energy as you swap out the toxic products hiding in your cabinets and replace them with all that oily goodness.
Look at all these perks!
Earn points to spend on future product

FREE loyalty gifts along the way

FREE promotional items available every month

Exclusive discounted ER bundles

Completely customizable and flexible

Access to FREE shipping subscriptions
You can cancel your Essential Rewards subscription box at any time but I'm telling you, you won't want to! I suggest making your Premium Starter Kit your first ER box then grabbing a couple bottles of Ningxia Red the following month. It's SO delicious!
Use this link to set up your account and order your favorite starter kit!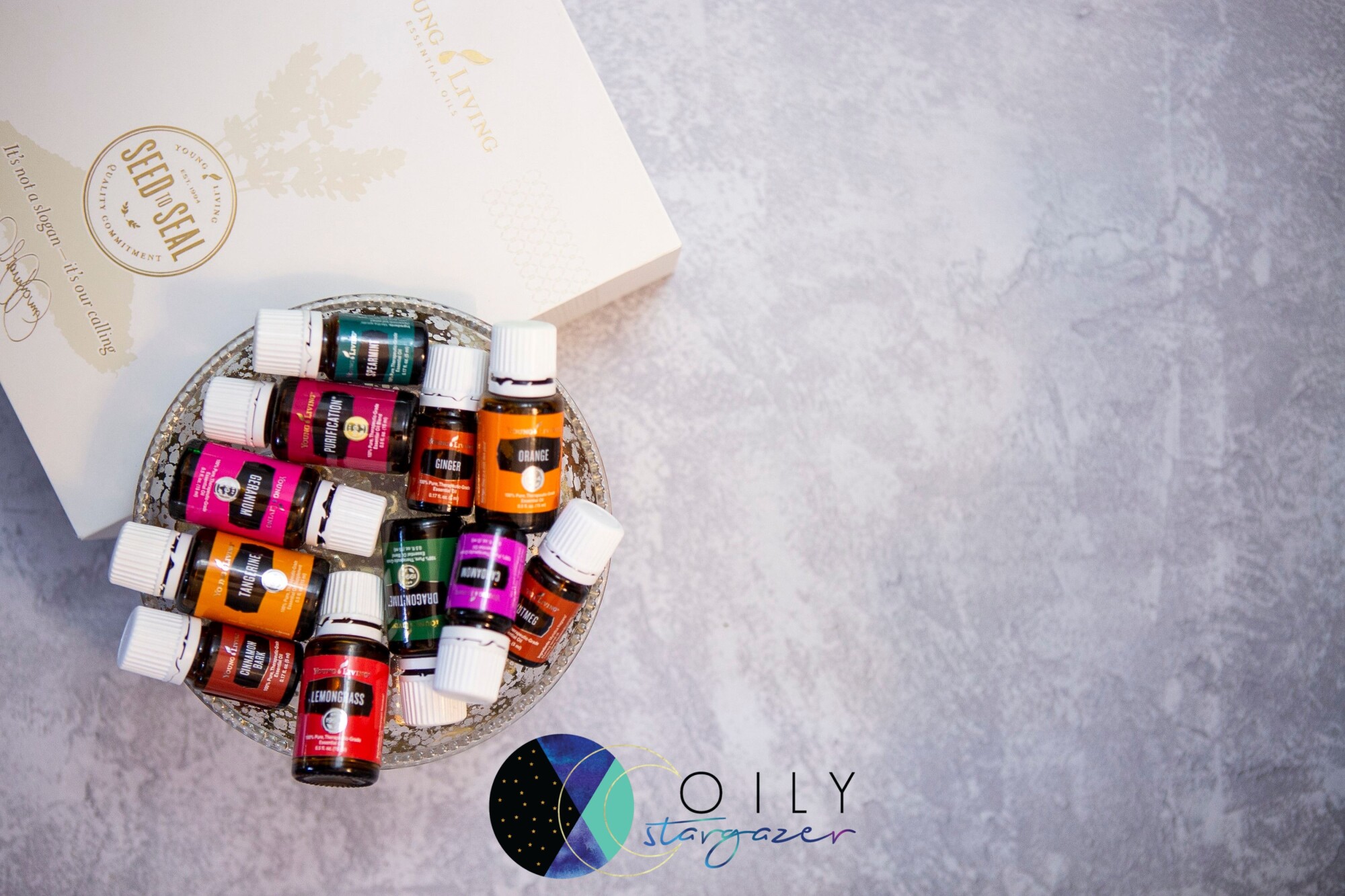 Thank you so much for joining me for this magical post! I hope you enjoyed all the potions & brews and are grabbing your kit TODAY!
One last thing, just for fun! Leave me a comment with your magical name!