Jul 12, 2018 06:42 AM Central
Laura Brianne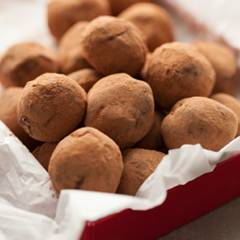 Ingredients
Instructions
Place the chopped chocolate in a heat-proof bowl and set aside.

Combine the coconut oil, Yacon Syrup, coconut milk, and salt in a small saucepan and bring to a simmer (do not boil).

Pour mixture over reserved chopped chocolate. Let stand for 1–2 minutes, and then stir gently until completely melted and smooth.

Stir in the vitality oils.

Refrigerate until mixture is just set, about 2 hours.

With a small scoop or spoon, make 12 balls, rolling each between the palms of your hands to smooth.

Place about 1/4 cup of cocoa powder in the bottom of a shallow plate or dish. Roll each truffle in the cocoa until coated.

Refrigerate for at least 15 minutes to firm and serve.

Truffles can be refrigerated in an airtight container up to 2 weeks; let stand at room temperature 10 minutes before serving.
*Found on the Young Living blog*